Office & Tax Appointment Information
Yes! Call (207) 582-1040 for an appointment, or send an email to Info@JackSkehan.com.
Our clients come from almost every county in Maine, and from several states. Quite a few 'snowbirds' forward their forms to us to prepare their returns during the regular tax season. Others have us file an extension, and prepare their taxes when they return to Maine.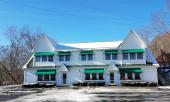 Our office is on Bridge Street in Gardiner (Route 201) adjacent to Cobbossee Stream, just six miles from Augusta, and a little over ten miles from Richmond.
We are across from the entrance to the Gardiner Hannaford, and Dunkin' Donuts, and near the A-1 Diner.
This is a good question! You should bring all tax-related documents provided by your employer(s), pension provider and/or social security administration, bank, credit union, stock broker, mortgage holder, childcare provider, etc. These would include the W-2, 1099-B, 1099-DIV, 1099-INT, 1099-R, Social Security statement, 1098-M, property tax bill, vehicle registration forms showing excise tax, record of charitable contributions, etc.
If you own rental property, a small business or a farm, bring records of income and expenses.
For a more complete list, please review our Tax Appointment Checklist and Questionnaire for the current Tax Season from our main menu under "Appointment Docs"
Another good question! We generally schedule one hour for the initial interview.
In most cases, you will have a good idea of your income tax situation before you leave the office. Sometimes, however, we need more information from you before we can complete the tax return. Once your preparer has completed their work, your tax return will pass through our quality assurance review. We'll contact you when the returns are ready for your signature (and electronic filing, if that's what you desire).
Tax season*:
Monday – Friday, 7:30 AM to 7:00 PM
Saturday, 7:30 AM to 3:30 PM
Sunday – Closed
Last day of "tax season" for Maine residents filing a 2022 tax return, is April 18, 2023. The office closes at 4:00 PM that day.
Off-season:
Monday – Friday, 8:00 AM to 5:00 PM
Late Spring/Summer:
Monday – Thursday, 8:00 AM to 5:00 PM
Friday, 8:00 AM to 1:00 PM
Other arrangements can be made if the regularly available appointment times do not match your schedule.
*typically the third week in January through the middle of April
We are frequently asked, "How much will it cost to have you prepare my tax return(s)?" Almost always, the answer is, "It depends."
Every tax return is different, so our fee will depend on the individual income tax situation. Fees can range from $250 to well over $1,000 for the most complex returns. Our rates are very competitive with national tax firms and are lower than most CPAs. They are based on a combination of a per form fee and time — and are in direct relation to the complexity of each client's tax return.
More important, taxpayers might want to focus on the ability and thoroughness of the tax professional, to be sure the lowest possible tax is paid.
We are happy to address this issue on an individual basis.
Something else?  If we haven't answered your question, please either call us at (207) 582-1040
There are many articles listed on this website under "Jack Skehan & Associates' Latest News", as well as on our Facebook page.